Death Over Dinner Global Launch
From the Huffington Post:
"At 45, Laura Sweet has thrown plenty of dinner parties. The routine has become familiar: Pick a date, email invites, fire up a few favorite dishes, pour some wine and let the conversations flow.
But for the former hospice volunteer who lives in Walnut Creek, Calif., the dinner she'll host in her apartment on Saturday is bound to stand out.
For starters, she had to include this warning to guests: "This might be the most unusual dinner invitation I have ever sent, but bear with me, I think we're in for a remarkable experience … This is not meant to be a morbid conversation…"
The meal's theme: death.
On Aug. 24, Sweet, a handful of friends and hundreds of others in more than 250 cities will participate in Death over Dinner, coordinated meals hinged on connecting friends and strangers through conversations about life and death. They'll take place in churches, assisted living facilities, universities and homes in Florida, California, New York, Washington, India and Australia, among other settings.
"We want to talk in an informal way about personal experiences with death. How do people want to die? Have you shared that with anyone? What deaths have you experienced?" said Sweet, a former tech website editor who recently transitioned into taking classes in end-of-life care and found the event via Twitter. "We don't want it to be distasteful, or uncomfortable, but an uplifting atmosphere."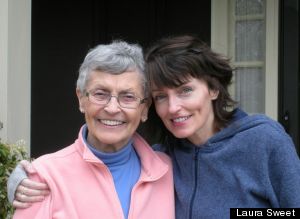 Laura Sweet, with her mother, who died of breast cancer Sept. 10, 2012. Sweet will share a remembrance of her mother during the Death over Dinner she plans to host.
Death over Dinner is the creation of Michael Hebb, a Seattle-based artist, activist and former restaurateur who is currently a visiting fellow at the University of Washington's Department of Communication. A year ago, he and Scott Macklin, the associate director of the university's Communication Leadership program, taught a small, experimental graduate course: "COM 592: Design Studio // Lets Have Dinner and Talk About Death." The idea: for students, Hebb and Macklin to create a project bringing views on death to life through food and drink.
Read more of this article at the Huffington Post here."
To participate in the global launch and host a dinner of your own, visit the Death Over Dinner website.
Posted on